Project Details
Number of Buildings
Multiple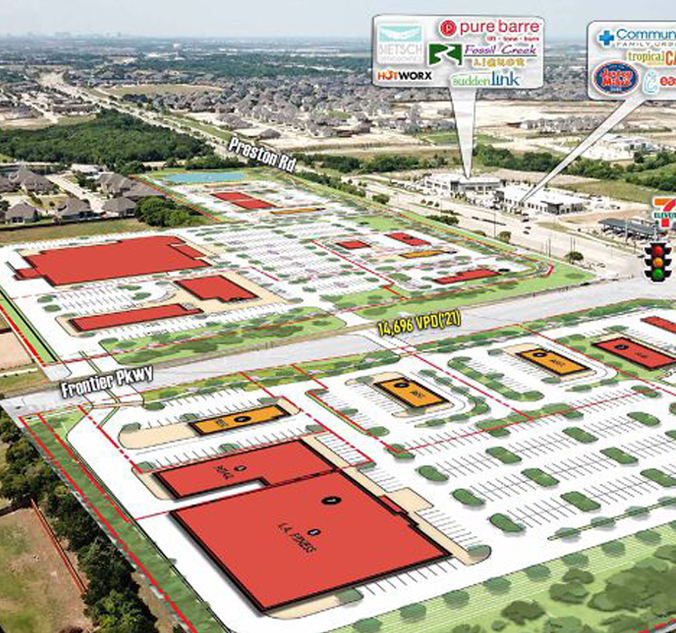 Description
In the rapidly growing city of Celina, Texas, two expansive retail developments have taken shape, poised to transform the landscape and cater to the burgeoning community's needs. Celina East, known as "Crossing at Moore Farm," and Celina West, referred to as the "Village at Ownsby Farm," together span 77 acres at the southern intersections of Preston Road and Ownsby Parkway. 
Celina East and Celina West are dynamic retail developments that aim to meet the increasing demands of Celina's residents and visitors. The project encompasses a wide range of infrastructure improvements, offsite enhancements, and the preparation of retail lots for a variety of future onsite buildings. A fundamental aspect of this project involves establishing the necessary infrastructure to support the retail developments. This includes roadways, utility networks, and stormwater management systems to ensure the smooth operation of the retail centers. The site work extends to preparing retail lots, ensuring they are ready for the construction of various onsite buildings, including inline anchors and retail shells. Several prominent tenants are set to be part of these retail developments, including a luxurious 110,000-square-foot fitness center, Lowe's, Chick-fil-A, Chipotle, and Panda Express, among other exciting retail options.
Conclusion
Celina East (Crossing at Moore Farm) and Celina West (Village at Ownsby Farm) are poised to become vibrant hubs within the city of Celina, offering a diverse array of retail and dining options while contributing to the economic and infrastructural growth of the region. The completion of these retail developments will not only cater to the needs of the local community but also attract visitors from neighboring areas, solidifying Celina's position as a thriving and dynamic city in Texas.